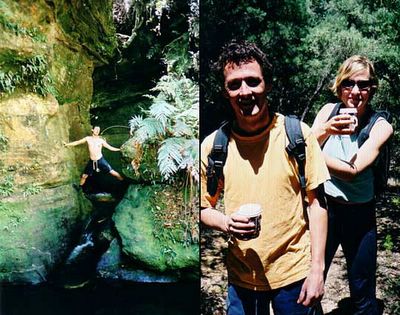 Robbie stetching out just before the abseil of Empress Canyon, and Karin and Robbie swigging the Conservation Hut Cafe coffees on the Nature Walk access in.
Empress Canyon rates way up in my favourite Canyons list now. With the access via the Nature Walk from the Conservation Hut the canyon is longer and has some fun slides and a great 4 metre jump in. And after the abseil exit, rather than walking back to the Hut, we walked the National Pass Trail to Wentworth Falls. This exit walk really topped it off. Its so beautiful!
I wore my wetsuite out on this hot sunny day and it kept me cool through evaporation all the way. It wasn't till we got to Wentworth Falls that it bagan to dry out and heat up, but by then I was plunging into one of those lovely water holes on the halfway ledge of the falls.
Robbie and I swore to come back and climb one of the many lines we observed on the amazing cliffs around there.