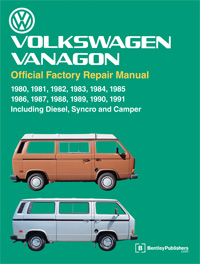 Volkswagen Vanagon Official Factory Repair Manual: 1980-1991
Including Diesel, Syncro, and Camper. US$99.95
Get this one from
Bentley Publishers
, but I'm not sure if its the right one. This manual says it covers up to 1991, but my van is 1992. I really don't think there is a difference, but I'm contacting them to make sure. Bloody expensive manual, so it would want to be right.
Volkswagen in Australia - The Forgotten Story. $79.95
Over 250,000 VWs were assembled in Australia until 1976 and this very impressive new work, subtitled The Forgotten Story, takes a nostalgic look at the history of the local company and these cars, revisiting the days when the sound of an air-cooled flat-four engine was commonplace on our roads. Extensively illustrated throughout with all manner of period advertising, press clippings, factory & dealership photos, this labour-of-love fully deserves your attention.
Author: Davies, Rod
Published: 2004
Binding: Hardcover
No. Pages : 168
Dimensions: 28 x 30 cm
How to Convert Volkswagen Bus or Van to Camper Manual. $69.95
This book provides step by step instructions to enable you to convert your Volkswagen Van or Bus into a practical and stylish camper. It explains how to select thebest project vehicle for your needs, how to plan the layout and choose fittings and how to fit a high-top or an elevating roof, side windows, interior furniture, gas and water systems and electrical equipment. It covers al VW Transporter T3/T25 and T4 panel vans and people carriers from 1980 to 2003. it does not cover pick-up or crew cab models.
Author: Porter, Lindsay
Published: 2004
Binding: Softcover
No. Pages : 224
Dimensions: 21 x 27 cm
Illustrations: Over 820 colour
ALREADY BOUGHT THIS ONE - Not as good as I'd hoped, illustrations are poor and few, and the instuctions hard to follow :(
VW Transporter Workshop Manual 1982 on. $63.95
Author: Volkswagen
Published: 1996
Binding: Softcover
No. Pages : 176
Dimensions: 21 x 28 cm
All available at
The PitStop Bookshop